Arctic Sectional Snow Pusher

COMPETITIVE-EDGE PLOWING.
Time after time and lot after lot, no other plow clears the lot like the Sectional Sno-Pusher™ from Arctic. Our unique sectional design allows the plow to follow the contour of the surface grade, clearing down to pavement on the first pass. And the innovative features of the plow protect the lot, the equipment and your operator.
WE MAY BE IMITATED BUT WE'RE NEVER DUPLICATED!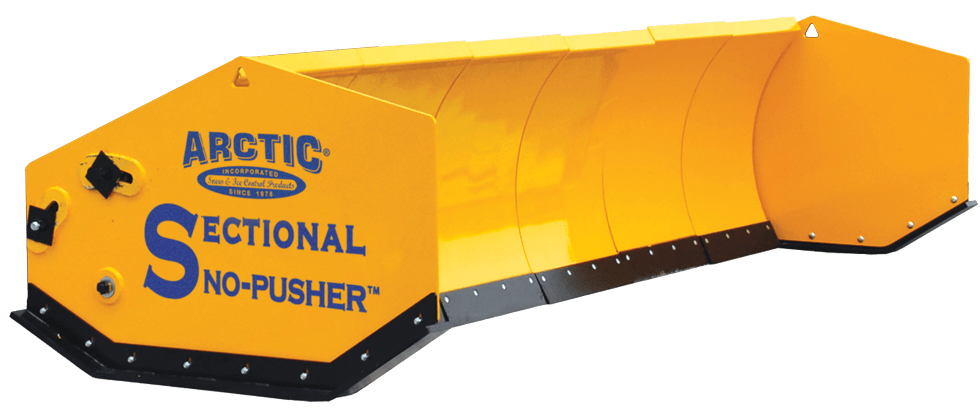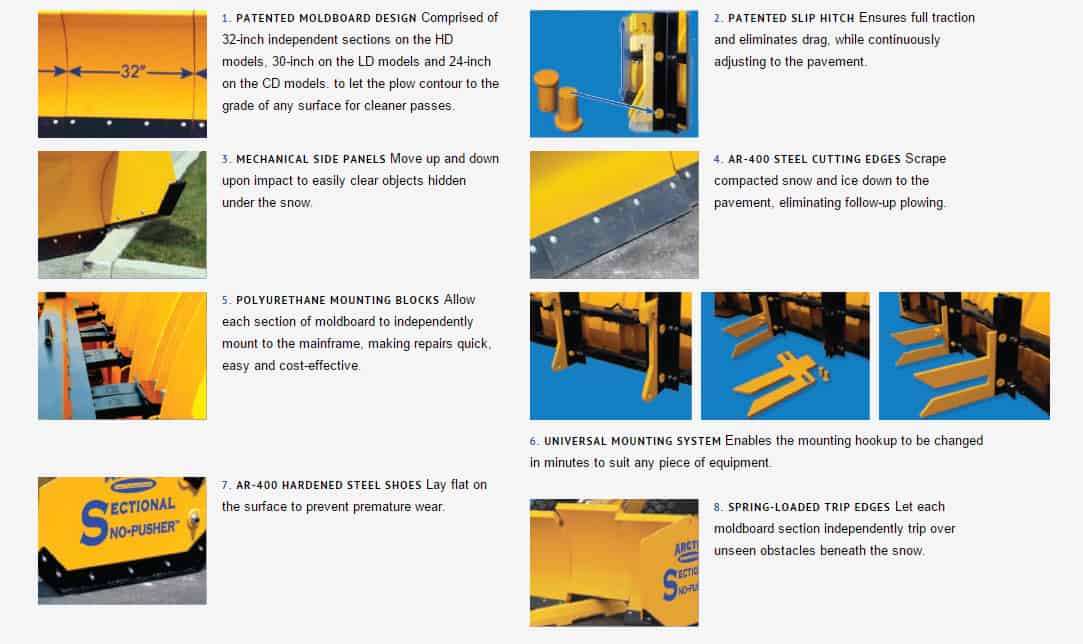 SECTIONAL SNO-PUSHER™ LINEUP
From our independent moldboard sections to steel trip cutting edges to mechanical side panels, Arctic Sectional Sno-Pushers maximize plowing capacity and minimize repairs. Whether you're outfitting a lone skid steer or an entire fleet of backhoes and loaders – rest assured that every plow we make will significantly reduce plowing times, cut salt usage by up to 50% and boost your profitability. Compact Duty. Light Duty. Heavy Duty. We've got a plow that's right for you.
CD SERIES PUSHERS

EQUIPMENT WEIGHT UP TO 5,000 POUNDS
OVERVIEW
CDPushers are compatible with small skid-steers, compact tractors and small wheel loaders and offer the perfect solution for clearing small parking lots, sidewalks and larger driveways. Designed by a veteran snow and ice removal contractor, the Sectional Sno-Pushers are unlike any snowplow you've ever used, combining the precision of a smaller pusher with the performance and capacity of a much larger unit. Whether you're new to the snow removal game, extending your summer landscaping or construction business into snow removal or a well-established contractor, the CD series offer a great solution for those small, though to get into spaces. Our CD plows have successfully been serving customers in the facility management, agricultural and estate owner areas for years.
LD SERIES PUSHERS

EQUIPMENT WEIGHT LESS THAN 15,000 POUNDS
OVERVIEW
LDPushers are compatible with several types of lighter-duty equipment including backhoes, skid steers, compact loaders, and tractors. The LD line is the mid-range line offering enhanced performance and size for those contractors looking to tackle some of the larger, more demanding snow removal jobs. The breadth of the LD line makes it the ideal match for a diversifying construction or landscape contractor looking for profitable way to utilize inactive equipment during the winter months.
HD SERIES PUSHERS
EQUIPMENT WEIGHT MORE THAN 18,000 POUNDS
OVERVIEW
HDPushers include a host of innovative features designed for maximum productivity, and are compatible with a variety of large equipment including wheel loaders, backhoes, skid-steers, tractors and telehandlers. Sectional Sno-Pusher's HD line is ideal for professional snow and ice management professionals that face the difficult challenges of today's squeezed profit margins and skyrocketing expenses. These pushers, along with the CD and LD models, boost profits by cutting fuel costs, labor and maintenance and repair bills while skyrocketing efficiency and customer satisfaction. The Sectional Sno-Pusher's will give your business the competitive advantage you need to succeed in this difficult competitive environment.
Check out the writeup on Arctic Sectional Snow Pushers on Page 49 of Snow Magazine!
Save
Save