Earth's EcoMagnesium Chloride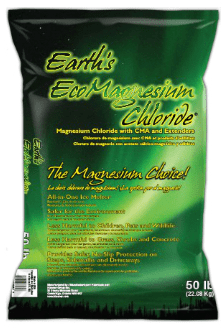 Earth's EcoMagnesium Chloride
Earth's EcoMagnesium Chloride: Bulk Delivery & Pickup Barrick Garden Center is one of the largest suppliers of Earth's EcoMagnesium Chloride at the best prices in Maryland. Everyone if A t has different ice melt needs, which is why Barrick Garden Center offers Earth's EcoMagnesium Chloride in individual 50 lb. bags or by the pallet and skid (49 bags per each pallet). With the ice melt available for pickup and bulk delivery, Barrick Garden Center can help make sure you're ready for all of the winter weather yet to come.
Concentrating on Snow & Ice
When you compare Earth's EcoMagnesium Chloride with other ice melting products,
you will find that it has a lot of great benefits to offer those who use it. Amongst other
things, you will enjoy perks such as:
A unique formula of both safer and more-effective ice
melting ingredients.
A CMA (calcium magnesium acetate) coating on the granules in order to protect a pet's paws against irritation.
Considered to be one of the most pet-friendly ice melting
products on the market.
A fast-acting formula for the quick and effective melting of ice.
Works faster and at lower temperatures than other products.
A green tint added to the granules in order to prevent problems with over application.
The safest de-icing product for concrete surfaces.
Earth's EcoMagnesium Chloride Melting Power
Works best at temperatures above 20 degrees Fahrenheit, but is able to effectively melt ice in temperatures as low as -25 degrees Fahrenheit.
Works well, even in sleet and rain because of its extreme longevity.
Breaks and inhibits the bond between snow/ice and the pavement.
Has a longer lasting effect than salt or urea.
Earth's EcoMagnesium Chloride is a market leader in its class. This product is formulated with the most pet-friendly chemicals possible, and also works to protect your concrete and your vegetation. On top of this, the CMA coated de-icer is faster acting than many other products, and will keep your pavement free of ice for a long time, so that you don't have to worry throughout the winter.
For more information on this product, get in touch with one of the experts at Barrick Garden Center today.
Save
Save