Nicholas Toms
Vice President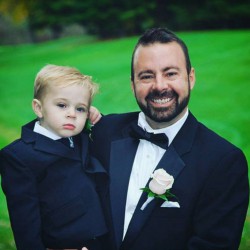 Nicholas (Nick) Toms is our Vice President here at Barrick & Sons. He was born in Alabama and raised in Frederick County. Nick grew up in a family of builders and has enjoyed building things his entire life.
Nick started working summer and weekend construction jobs in high school and that transitioned into landscaping. When he was 19, he was managing a team of 15 for a commercial landscape maintenance company.
In 2005, Nick joined the Barrick & Sons team. He was promoted to Project Manager of a hardscape crew in 2007, and in 2012, he took a design/sales position with the company. Nick now oversees our entire hardscape division and has held the Vice President title for the company since 2016.
When he's not spending time with his son, Austin, Nick is enjoying the outdoors – fishing, hunting, snowboarding, and riding his motorcycle.