Ice Patrol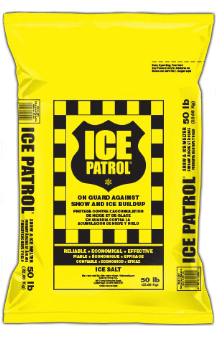 Bulk Delivery & Pickup in NJ & NY
Barrick Garden Center is one of the largest providers of Ice Patrol in Maryland. With ice melt available for pickup and bulk delivery,Barrick Garden Center can help make sure you're ready for all of the winter weather yet to come.
Buy Ice Patrol in NJ & NY
Everyone has different ice melt needs, which is why Barrick Garden Center offers Ice Patrol in individual 50 lb. bags, by the pallet or skid (49 bags per pallet) or by the truckload (16 pallets per each truckload). Speak with a Barrick Garden Center specialist today to discuss which option may be best for you.
Maryland homeowners utilize rock salt as a means of melting existing ice, and preventing the formation of future icy patches. Unfortunately, some rock salts can actually create other problems.
Rock salt that does not sufficiently lower the freezing point of water may cause damage to concrete, as the water will go through various freeze-and-thaw cycles. Additionally, some ice melters can cause slipping.
Ice Patrol Eliminates Problems
Ice Patrol eliminates these problems by lowering the freezing point of water down to -25 degrees Fahrenheit, which reduces the chances of continuous freezing and thawing that may cause cracking and weak spots. In addition to this, Ice Patrol utilizes different-sized crystals. The smaller crystals work to melt on contact, whereas the larger crystals create instant traction as a means of promoting safety.
The versatility, melting power and safety offered by Ice Patrol makes it an ideal ice melt for residential properties, schools, businesses, nursing homes and other locations that experience frequent foot traffic.
Concentrating on Snow & Ice  
As compared with other ice melting products that are on the market, Ice Patrol offers numerous benefits to users. Some of the many advantages include:
Optimally sized salt crystals which allow the product to achieve maximum performance and safety.
Varying crystal sizes that enables the granules to flow freely through commercial spreaders without any problems or complications.
Granules that are screened to ensure that no gravel is mixed in.
Product is dehydrated to prevent clumping.
No hazardous components, and is extremely safe to handle, even without protective clothing.
Environmentally formulated to protect plant life and other vegetation.
Causes less damage to concrete, making it one of the safest ice melters on the market today.
When used as directed, Ice Patrol will not cause tracking, or damage to carpet and other flooring surfaces.
Meets requirements of the American Association of State Highway and Transportation Officials (AASHTO).
Ice Patrol Melting Power
Ice Patrol is so effective that it begins to break down icy patches as soon as it makes contact.
Through the use of a sodium chloride catalyst, the product melts ice down to -25 degrees.
Faster acting and more effective than traditional rock salt formulas.
Small granules begin melting ice immediately, while larger crystals promote longevity.
As an economical grade ice melter, Ice Patrol excels in its category in terms of efficiency, effectiveness and safety. The affordability of this product and its optimized crystal sizes make it an ideal choice for commercial properties and cities to purchase in bulk supply for winter usage.
Users will find that Ice Patrol does not contain any hazardous materials, making the safe handling, use and storage of the product very simple. To make the most educated decision possible, be sure to review the Material Safety Data Sheet (MSDS) for Ice Patrol.
Keep yourself and your property safe this winter by selecting Ice Patrol as your first choice for ice melters. For further information on this product, feel free to speak to one of the experts at Barrick Garden Center. Ice Patrol is available for pickup or for bulk delivery.
Save